Protecting Your Precious Plants: Tips for Keeping Your Feline Friends at Bay
 For all the plant lovers who share their homes with a mischievous feline companion, the struggle to protect your green leafy friends is a familiar one. Cats are known for their curiosity and love for chewing on plants, but fear not! In this article, we'll explore some expert tips to help you safeguard your cherished plants from your cat. Additionally, we'll introduce a fantastic solution: plant deterrent spray, which can help keep your plants safe and sound.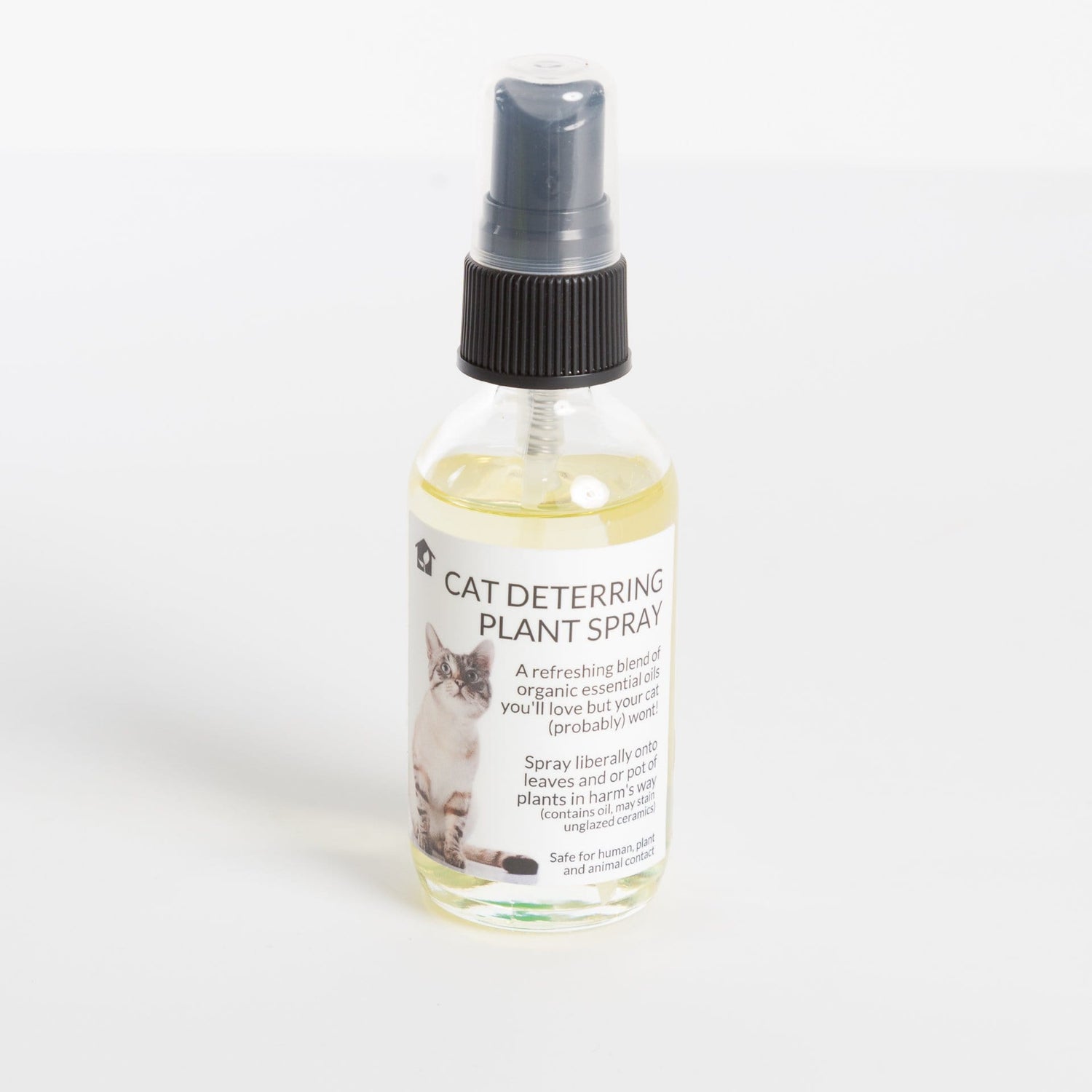 Plant Deterrent Spray: A Game-Changer
One of the most effective tools in your arsenal for protecting your plants is a high-quality plant deterrent spray. This innovative product creates a protective barrier by emitting an unusual citrus scent that cats find unappealing. Simply apply the spray to your plant or its pot, and watch as your cat turns up its nose and walks away. This is a safe and pet-friendly way to ensure your plants remain unharmed.
Try the spray
Elevate Your Plants with Hanging Baskets
Cats often nibble on plants that are within easy reach. To keep your plants safe, consider hanging them in decorative baskets or macramé plant hangers. This not only adds an aesthetically pleasing touch to your home but also keeps your plants out of your cat's grasp. Just be sure to hang your plants at a height where your curious kitty can't leap onto them.
Shop for a hanger
Add Medium to Large Rocks to the Soil
Cats might also enjoy digging in the soil of your potted plants. Prevent this by placing medium to large rocks on top of the soil. These rocks act as both a deterrent and a decorative addition to your plant's pot. Not only will your cat find it less appealing to dig around, but your plants will also benefit from improved aeration and water retention.
Plants that Stay Put
When selecting plants for your home, it's a good idea to steer clear of those that might be particularly appealing to cats. Some plants, like parlor palms, are known to mimic cat toys due to their delicate fronds that sway easily. Instead, opt for more rigid or upright plants that are less likely to attract your feline friend's attention.
Plants your cat don't want to chew
Create a Cat Paradise
In addition to protecting your plants, consider creating a designated cat-friendly space in your home. Fill this area with toys, scratching posts, and cozy spots for your furry companion. By providing your cat with an enticing space of their own, they may be less inclined to explore your precious plant collection. Sometimes including a plant specifically for them to munch on (like cat grass) can be helpful.
Balancing your love for plants and your love for your cat can be challenging, but it's not impossible. By using a combination of the strategies mentioned above, you can create a harmonious living space for both your green friends and your feline companion. Remember, plant deterrent spray is a powerful ally in this endeavor, effectively discouraging your cat from nibbling on your beloved plants while leaving them unharmed.
With the right tools and a bit of effort, you can ensure that your indoor garden thrives without worrying about your cat's curious antics. Enjoy a beautiful and flourishing home filled with both plants and your furry friend.
Get our latest articles sent right to your inbox!